Sports injuries are injuries sustained when playing sports or during exercise. They occur either as accidents or due to poor training practices such as not warming up or using improper gear. These are mostly caused by applying forces greater than a body part can structurally endure at one time or over a longer period. Common sports injuries involve soft tissue structures like ligaments, cartilage, muscles, and tendons.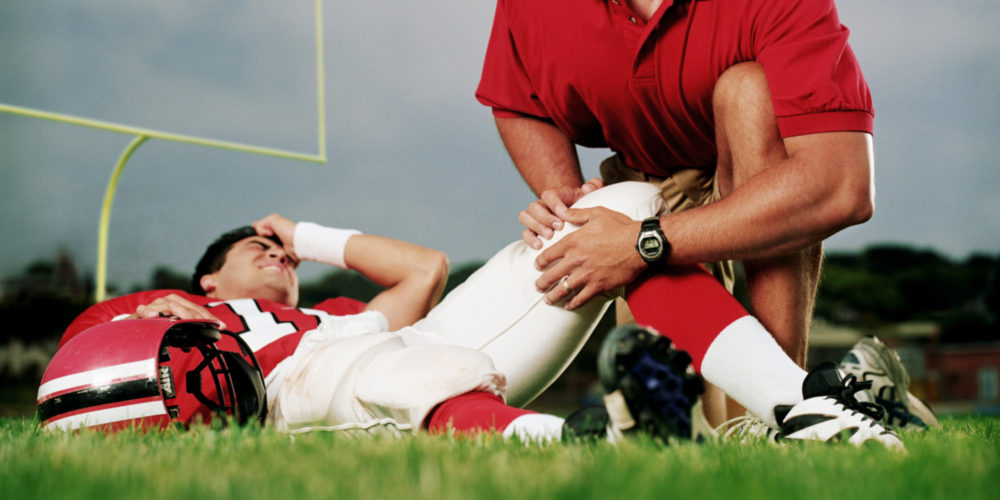 Types of Sports Injuries
Sports injuries include many kinds of injury suffered in other areas such as falls, car accidents and industrial accidents.
It is useful to classify them by type of injury:
Contusions
These are caused by direct blows onto tissues, particular muscle masses like the thigh. The local tissue and muscle cells are bruised and damaged, swell and become painful
Strains
These are tears in muscles or tendons caused by overexertion or over-stretching
Sprains
Joint injuries are from overstretching the ligaments around the joint, causing tearing, swelling, and pain. Mild ones can be self-managed, severe sprains such as ligament rupture require medical advice
Dislocation
These occur when one part of a joint becomes detached from the other, due to a very severe sprain. Requires medical advice
Fractures
Broken bones, either a minor one where a ligament pulls a piece of bone off or a major one involving main bone such as the thigh. Require medical advice
Head Injury
These occur when the head is hit by something or hits itself against something. Head injuries, even minor ones with few or no symptoms, are always serious and require medical advice
Spinal Cord Injury
This occurs when the spine is damaged significantly and leads to injury to the spinal cord within. These are medical emergencies.
Wounds
These can vary from blisters to large cuts in the body due to impact against a sharp object
Overuse Injuries
These are the most common sports injuries. Inflammation and pain are set up by stressing a tissue too much, too often or both.
Injuries can also be divided into acute and chronic, with differing approaches and treatments.
Acute and Chronic Injuries
Acute injuries are recent and happen suddenly during sporting activity. Signs of an acute injury are severe pain, swelling, limited joint movement, weakness, and inability to bear weight on the limb. Severe cases are obvious fractures and dislocations. They are treated commonly with ice, rest, compression, elevation and gentle movement. Fractures and dislocations require immediate medical care.
Related: Sports Injury and Middle Age: Common Issues that Can Slow You Down, But Don't Have To
Chronic injuries are longstanding and due to repeated acute events which have not be settled fully in the athlete. They may swell, are painful on activity and often ache at rest but do not have much inflammation. Treatment is frictions, stretches, muscle strengthening, orthotics and altering the mechanics of the athletic action concerned.
The Seven Most Common Sports Injuries
These are:
Groin strains
Hamstring pulls
Knee ligament tears
Kneecap pain – patellofemoral pain

Can Sports Injuries Be Prevented?
Many sports injuries happen as accidents during play such as collisions, ankle sprains or falls. These are difficult or impossible to prevent. But many could be prevented with some simple precautions. For example, to lower your risk of injury:
Make sure you are trained for the sport or activity. Fitness for sport is very specific so if you are fit for football you are not fit for rugby.
Perform at least five minutes of warm-up and cool-down before and after exercising or playing a sport
Use the right equipment, including any recommended safety gear
Don't push yourself beyond your level of fitness
Avoid returning to sport or exercise too soon after an injury
Wear good shoes with suitable stability and cushioning
Avoid running on hard surfaces or up and down hill
If you have an injury or any pain, don't try to push through it
Avoid being a "weekend warrior" by packing all your sporting activity into two days
Overuse Injuries in Sports
These are the most common sports injuries as sports people routinely overdo training and performance. They put up with small injuries until they get more severe and they are forced to stop or reduce their training. Overuse injuries are caused by repeated trauma, examples being stress fractures and tendonitis.
There are two categories of error which can lead to an overuse injury:
Errors of Training
This happens when we exercise too much and too quickly. Doing too much exercise (overtraining), doing too high a level too soon or performing actions too fast can cause an overuse injury.
Errors of Technique
Poor technique can mean you use much more strength than you need to and strain your joints as you perform an activity incorrectly. A repeated poor technique can then lead to an overuse injury.
Anyone can get an overuse injury but it is most likely as we get older, if we are returning to training or if we have increased our training recently. Most overuse injuries could be avoided if the right steps were taken.
How to Avoid Overuse Sports Injuries
A good approach to avoid overuse injuries can be:
Adding variety to your exercise regimen to avoid any one set of muscles being continually stressed over a long period of time
Pacing your increase in activity to avoid over-stressing your muscles, joints and tendons
Learning proper technique and using proper sports gear
Taking lessons can be a quick way of getting things right to start with
Using appropriate footwear that matches with your sports activity
Taking a rest from your activity from time to time to let your tissues settle
If you do have an injury, make sure you identify the exact cause of your problem so you can make changes to your activity and prevent it recurring. Get an expert physiotherapy opinion early to ensure the quickest recovery.
Once you feel the injury has healed you should not return to the potentially aggravating activity until you test your tissues to see if they are ready. You need a full range of motion, muscle strength, flexibility, coordination, and balance or you risk a repeat of your problem.
What to Do if You Are Injured
If you have a serious injury, such as a dislocated or broken bone or a head injury, you should seek medical attention. Go immediately to the nearest accident and emergency (A&E) department, by ambulance if required.
A moderate injury such as a ligament sprain or a muscle tear may still need medical attention. You should be guided by the amount of pain you have and your ability to use the injured part. If the pain is moderate or severe or you can't use the injured part of your body normally, seek medical help straight away.
If you have a minor injury, you may be able to treat it yourself. An ice pack on the injured area for about 15 minutes can be used for up to eight times a day. A stretchy bandage can apply pressure to the area to help prevent or reduce swelling. You should always take care to see that it is not too tight to interrupt the circulation and don't wear it at night. It's essential to rest from the aggravating exercise or sport.
Anything but a minor injury will take several weeks to resolve before you are fit for performance again. Your injury should start to improve within 48 hours after the event. If it does not you should consult your GP, especially if you still have severe pain or the affected area swells badly or feels numb.
The PRICE Protocol for Acute Injuries
PRICE therapy is the best way to treat milder joint sprains and muscle strains in the first 72 hours after injury. Inflammation, swelling, and pain are reduced and your recovery time minimised.
PRICE stands for Protection, Rest, Ice, Compression, and Elevation.
Protection. Stop the activity causing the problem to prevent further damage. Crutches, splints, and supports may be used.
Rest. Be less active for a while to let the injured area settle and heal.
Ice. Use for 10 to 15 minutes up to eight times a day. Always wrap the ice pack in a wet tea towel or similar to prevent an ice burn.
Compression is very important to limit swelling. Crepe bandages are good but should not be tight enough to cause swelling or numbness and don't wear it at night.
Elevation. Keep the injured area up above your heart to limit the amount of blood flow to the area and reduce swelling.
Sticking to the PRICE protocol can minimize your time to recovery.
How Sports Physiotherapy Can Help
Sports physiotherapy is a specialized branch of physiotherapy that deals with sports injuries and related issues. It is appropriate for men and women of all ages engaged in all kind of sports at any level of competition. Physiotherapists can manage minor and moderate sports injuries and may be involved in the rehabilitation of more serious injuries after medical management has done its job.
Sports Physiotherapy Patient Consultation
Sports physiotherapists have specific training and knowledge to treat acute, chronic and overuse injuries such as:
Sprains and strains
Bursitis
Ankle pain
Muscle pain
Tendonitis
Groin pain
Hamstring injury
Fractures
Dislocations
Workout injuries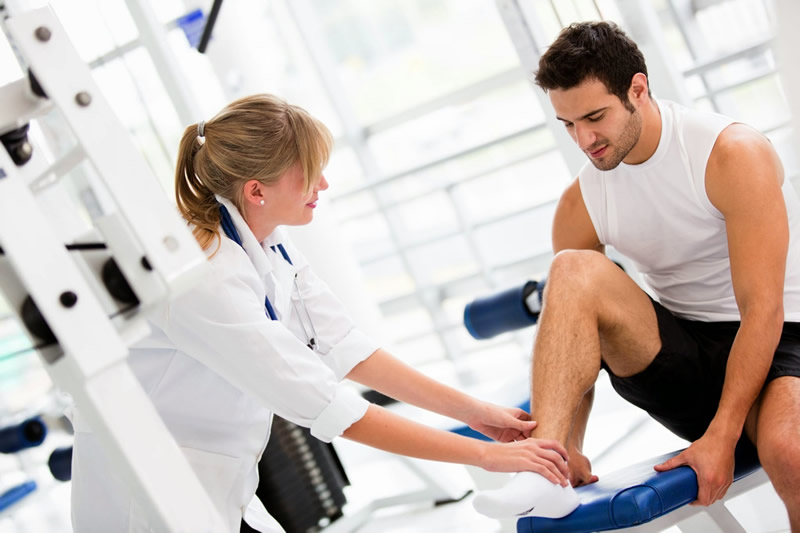 Physiotherapists can help symptoms such as pain and weakness and rehabilitate the injured area. They will develop an individual treatment plan including exercises that promote strength and flexibility. They may also use massage and manipulation. The treatment plan will help you recover faster and avoid complications. And it will reduce your risk of sustaining other injuries in the future.