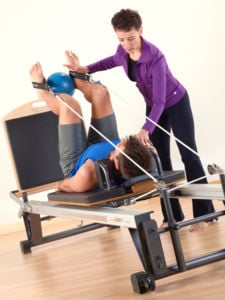 If this is your first time visiting a physiotherapy office, you may understandably be anxious about what to expect. If you are in pain, probably the last thing you want to think about is exercising. However, the physiotherapy exercises are designed to be gentle yet effective to help relieve and control your pain. Educating yourself on some of the more common exercises may help to alleviate some of your trepidation.
Passive exercises are those in which the therapist does all the work, the patient simply tries to relax. For instance, if you are suffering from leg, hip, or knee pain, the therapist might do some hamstring stretches. This simply involves the lifting of your leg to elongate the hamstring muscle which is found on the back of your thigh. Other passive exercises can involve arm, shoulder, and neck muscles.
Active exercises involve more involvement from the patient themselves and are performed under their own power. Some examples are walking on a treadmill, straight leg raises, or strength training such as arm lifts with light weights. The therapist will be close by for assistance, but to be effective the patient should do as much as possible on their own. Sometimes active exercises will be prescribed for you to perform at home in addition to while in the facility.
There are exercises that can be specialized for any type of pain or injury including exercises for the back, exercises to relive migraines, and even balancing exercises that will help to alleviate vertigo and dizziness. Often back exercises involve gentle stretching and sometimes yoga is incorporated. Migraines can be improved by neck exercises, again gentle stretching and strengthening of the muscles will help. Balancing exercises incorporate strengthening leg muscles and concentrating on proper posture and alignment of the body.
The experts at SquareOne Physio are committed to improving your health and quality of life. Rest assured any of our exercises are designed especially for your specific situation. Your therapist will be with you every step of the way to ensure your exercises are performed properly and are not too intense, nor too lenient, for your pain.