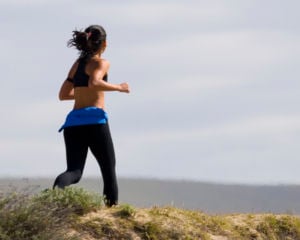 A common complaint among runners is foot discomfort, pain and even damage. There are a number of strategies that a runner can employ to keep his or her feet happy and healthy.
Proper Footwear
Keeping feel happy and healthy requires more than just throwing on any old pair of shoes when heading out for a run. Fitness and healthcare professionals alike recommend that a runner use shoes specifically designed for running. In addition, when selecting a running show, attention must be paid to the experience of a runner and his or her foot and ankle strength.
A person with more running experience and stronger feet and ankles can use more minimalistic running shoes. On the other hand, a person with less experience and less developed foot and ankle strength will need to gravitate towards a product with more structure.
A runner also needs to keep in mind that running footwear does not last forever. The average lifespan of a pair of running shoes is between three to five hundred miles. Once they reach that level of usage, they need to be replaced to optimize foot happiness and heath.
Proper Run Training
Another strategy to employ to enhance a runner's feet happiness and health is proper running training. This includes gradually building up the distance associated with a running regimen. The reality is that the most common cause of feet and ankle injuries associated with running is too long of an individual run when initially beginning a regimen. Experts suggest no more than a 10 percent increase in distance with each passing week.
Cross Training
Focusing on running related training is not the only training strategy to employ when working to maintain happy and healthy feet. Cross training -- fitness activities that compliment running -- is also highly important.
The two key elements of complimentary cross training are stretching and core strength enhancement. Stretching should occur before and after every run. Core strength training can be part of an overall fitness regimen that can include weights or cycling, swimming or even Pilates.
General Foot Care
Proper foot care is also fundamental to keeping a runner's feet healthy and happy. This includes the proper care of nails. They need to be appropriately cut and filed to ensure that they do not snag onto socks or cut into a runner's skin. If foot related issues occur, a person needs to seek prompt professional care to minimize injury.